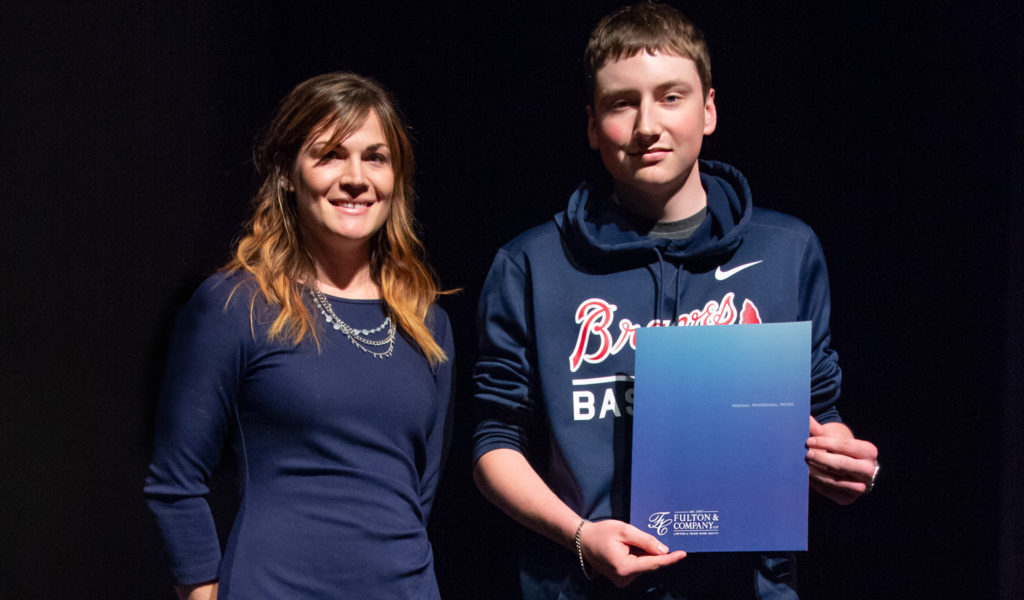 We are thrilled to announce that Mitchell Kopytko has been named as our 2018 Athlete of Influence. Mitchell (Gr. 11, SKSS) receives a $1000 scholarship from the Fulton Personal Injury Team in recognition of his resilience and dedication to healthy living.
Mitchell began curling in 2011 and is working to qualify for BC U18s and 2019 Canada Winter Games. In the off-season, Mitchell attends curling camps and competes with his SKSS Golf Team. He volunteers at the Kamloops Curling Club and acts as a mentor/coach helper to younger athletes. Mitchell is an Honour Roll with Distinction student and received the Top Power Mechanic Award – he plans to pursue a career in engineering after high school.
At 18 mos, Mitchell was diagnosed with Hypertrophic Cardiomyopathy, a heart disease which limits his athletic activities. In 2013, he had a Reveal loop monitor implanted to monitor irregular heartbeats, and in 2015, that was replaced with an ICD and pacemaker. But Mitchell hasn't let this slow him down. In his application, Mitchell says "I believe that if I focus on what I can do, and not what I am limited to, I will find success in all that I do."
Mitchell clearly demonstrated the qualities that we wish to celebrate in our Kamloops youth: a commitment to healthy living, resilience in the face of adversity, and a dedication to giving back to his community.
Ayla Salyn of Fulton presented the award at the SKSS Year End Awards Assembly, saying.. "this student has demonstrated exactly what we had in mind when we created this scholarship… he is an exceptionally talented curler… [who] has committed himself to volunteering within the curling community. We've spoken with [many people] who cannot say enough amazing things about this young man."
The other Top 10 Finalists were: Sara King (South Kam); Casey Hopper (Valleyview); Chantal Cavers (Chase); Elise Kouropis (Valleyview); Kieran O'Neil (Sahali); Emily Geisbricht (South Kam); Lane Robinson (Barriere); Savannah Dee (Clearwater); Cody Turner (Chase).
Thank you to our finalists and to all who applied – it was truly an inspirational group of applicants. We look forward to the process of selecting the 2018-2019 Athlete of Influence, with the application process to open shortly.
-Your Personal Injury Team