We're excited to officially announce both a new #TRULaw award, AND the first recipient – The $5,000 Future Indigenous Lawyers Award by Fulton has been awarded to second-year law student, Tara-Lynn Wilson!
With an initial $75,000 donation by Fulton, this Thompson Rivers University Faculty of Law initiative began to promote recruitment of and provide support to Indigenous law students (only approximately 3% of people working in the legal profession in BC identify as Indigenous).
With an impressive resume, Tara-Lynn is the President of the Indigenous Law Students Association of TRU Law, and a signing authority for TLABC – TRU Law. She's a playwright and author, and a member of a wide variety of community and university clubs and committees.
While law school, moot competitions, and Aboriginal/Indigenous law conferences are currently keeping her busy, in rare free time Tara-Lynn enjoys spending time with her family.
Thanks for stopping by Tara-Lynn – it was a pleasure to meet you, and we're excited to see all that you will accomplish!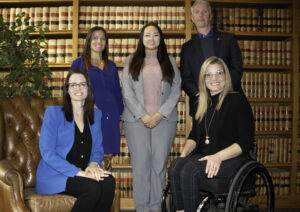 Read more about the TRU Future Indigenous Lawyers Fund and Tara-Lynn's story HERE. 
Pictured L-R: Leah Card, Ayla Salyn, Tara-Lynn Wilson, Dan Carroll, Jessica Vliegenthart