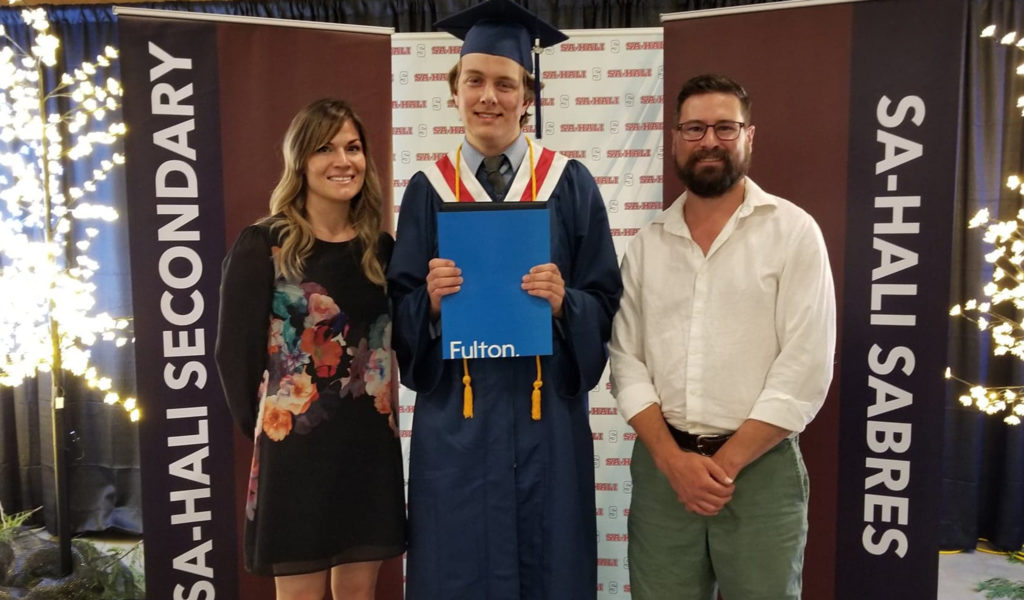 We are thrilled to announce that Kieren O'Neil (Gr. 12, Sahali) has been named as our 2019 Athlete of Influence and is the recipient of the $1000 scholarship from the Fulton Personal Injury Team. Kieren has demonstrated every element that this scholarship represents: a commitment to healthy living, resilience in the face of adversity, and a dedication to giving back to his community.
A curler since the age of 7, Kieren has gone on to have a very successful career as a young athlete. He has recently competed on the BC Junior Curling tour and placed second in the BC U17 last year. He is an active cyclist and hiker. As a certified NCCP coach, Kieren volunteers with youth at KCC events, and within his athletic community. He has been on the Effort and Honour Roles throughout high school and has received numerous accolades for athletics and academics, as well as music.
Kieren is resilient. He has faced struggles, and has worked hard to overcome them. At age 9, Kieren was diagnosed with Synovial Sarcoma cancer, and subsequently underwent radiation and surgery treatments. Following surgery, Kieren dedicated himself to regaining and maintaining his mobility through physiotherapy and continuing his athletic involvement. Since 2009, Kieren has played a key role in fundraising and attending events that have raised $1.4M for cancer research towards diagnostic testing and treatment.
We know that Kieren does not give up. He applied for this scholarship last year as a grade 11 student, and was successful in becoming one of our finalists, but was not ultimately selected for the scholarship. Did that stop him? No. He applied again this year, and we are really glad that he did.
Our Ayla Salyn and Michael Blackwell were honoured to present the award to Kieren at the recent Sahali Graduation Ceremony (pictured). After graduation, Kieren plans to pursue a career in Engineering.
The other Top 10 Finalists were: Chloe McLean (Norkam); Hannah Jorgenson (Westsyde); Taylynn Eustache (Barriere); Natalie Pietramala (St. Anns); Carson Day (Westsyde); Cedrik Menard (Clearwater); Logan Hwang (Westsyde); Amanda Haw (Westsyde); Emma Guertin (Norkam).
Thank you to our finalists and to all who applied – it was truly an inspirational group of applicants. We look forward to the process of selecting the 2019-2020 Athlete of Influence, with the application process to open shortly.
-Your Personal Injury Team